John Martin (1756 - 1822)
Nancy Ann Shipp Martin (1763 - 1841)
Lieut John "Jack" Martin
Birth: 1756 Essex County Virginia, USA
Death: Apr. 5, 1822 Stokes County North Carolina, USA
Spouse: Nancy Ann Shipp Martin (1763 - 1841)*
John married Nancy Shipp in 1784 and reared ten children.
John died in 1822 and his wife, Nancy, died in 1841.
They are both buried in a small family graveyard just below the Rock House, along with their son, William.
For some reason the bible page (posted here on his memorial) and his wife's pension application both cite John's death year as 1823.
However, John's will was dated May 10, 1821 and the probate of this will took place in 1822, so it would be impossible for him to have died in 1823.
Reference: North Carolina Wills: A Testator Index, 1665-1900 by Thornton W. Mitchell @1992 page 326: Martin, John CO 90 [Stokes County], date c1821 Recorded WB 3/80 [Will Book 3, page 80]
Original with a copy in the Archives. Pages 80 and 81 are also posted here on his memorial.
The people listed in the will are: Nancy (wife), Poley C. Bynam & Elizabeth Harris (married daughters) and James, Joseph, John, Samuel, George, Thomas and William Gillam Martin (sons) and three grandchildren, John Martin Cloud, Maryann Cloud and Eliza Jerome Cloud;
these were the children of John's daughter, Elizabeth, who married Jeremiah Cloud in 1810 and later married John Harris in 1817.
About the time Surry County was formed from Rowan in 1770, it has been said that a very young John Martin laid the foundation of the famed Rock House
in what is now in western Stokes County. Since he was only fourteen years of age at that time, it is likely that the construction of the house began later;
possibly as late as 1778. His marriage to Nancy Shipp in 1784 encouraged him to finish the house in 1785.
The house has come to be known simply as the Rock House to the locals.
A simple but tough design it has endured the elements for over two hundred years.
In bad disrepair the Rock House ruins now stand as an enduring testament to the pioneer people who not only tamed and settled this region but fought and died for the freedom we enjoy today.
The Rock House was four stories, including the basement and attic; had walls three feet thick;
and a fireplace in the basement big enough to roast an ox.
The outside of the house was covered with white stucco and could be seen for miles around.
The house is now on the National Register of Historic Places.
During the war years the Rock House was used as a fort against the Indians and Tories as well as the headquarters and a rallying point for the militia.
You can still see the gun ports built into the walls.
Captain John Martin earned the reputation of being a brave and couragous man.
He did much to eliminate the Tory influence.
Somewhere along the way John became known as "Jack" and that is the name some remember him by today.
Before the Rock House was completed John went to war from the old Surry County courthouse in Old Richmond as a Lieutenant in Captain Joseph Henry Smith's company with Rutherford against the Indians in 1776.
He fought for several years against the Indians as well as the Tories in the western part of North Carolina.
He served under Captains Smith, Minor, Phillips, and Robert Hill.
He also served under Colonels William Cleveland, Shepard, and James Martin and frequently rode with Major Joseph Winston.
John Martin was a member of the party that rescued Cleveland when the Tories, under Riddle, captured him at Old Fields.
Later the party captured Riddle along with his son and another Tory.
He fought with Colonel William Davidson to rout a band of loyalists under Colonel Bryan when they joined the British at Colson's mill.
In 1781 when the Tories had their headquarters in a cave known as Tories Den, on the north side of the Sauratown mountains just south of the Rock House, John Martin, along with Joseph Cloud, Joshua Cox,
and others under the command of Major Winston, attacked and killed all but one of the Tories.
When the mountain men marched to meet Fergerson at King's Mountain, John Martin was in Cloud's company under the command of Cleveland.
While scouting with Thomas Lankford both men were wounded and left for dead.
Martin recovered enough to get to camp and another removed some of the shot from his head and he was sent home.
He rejoined his company but the Battle of King's Mountain had already taken place.
When the mountain men joined Greene in Feburary 1781, John Martin marched with Major Winston under the command of General Pickens.
Martin was wounded at least two times while fighting the Tories and British and carried buckshot in his temple the rest of his life.
He also proved to be a good citizen during peacetime as well.
From 1788-1799 and again in 1811-1812 he served as a Stokes County State Representative to the General Assembly.
He served for thirty years as a magistrate in the courts of Stokes County and was said to have a droll humor and keen wit.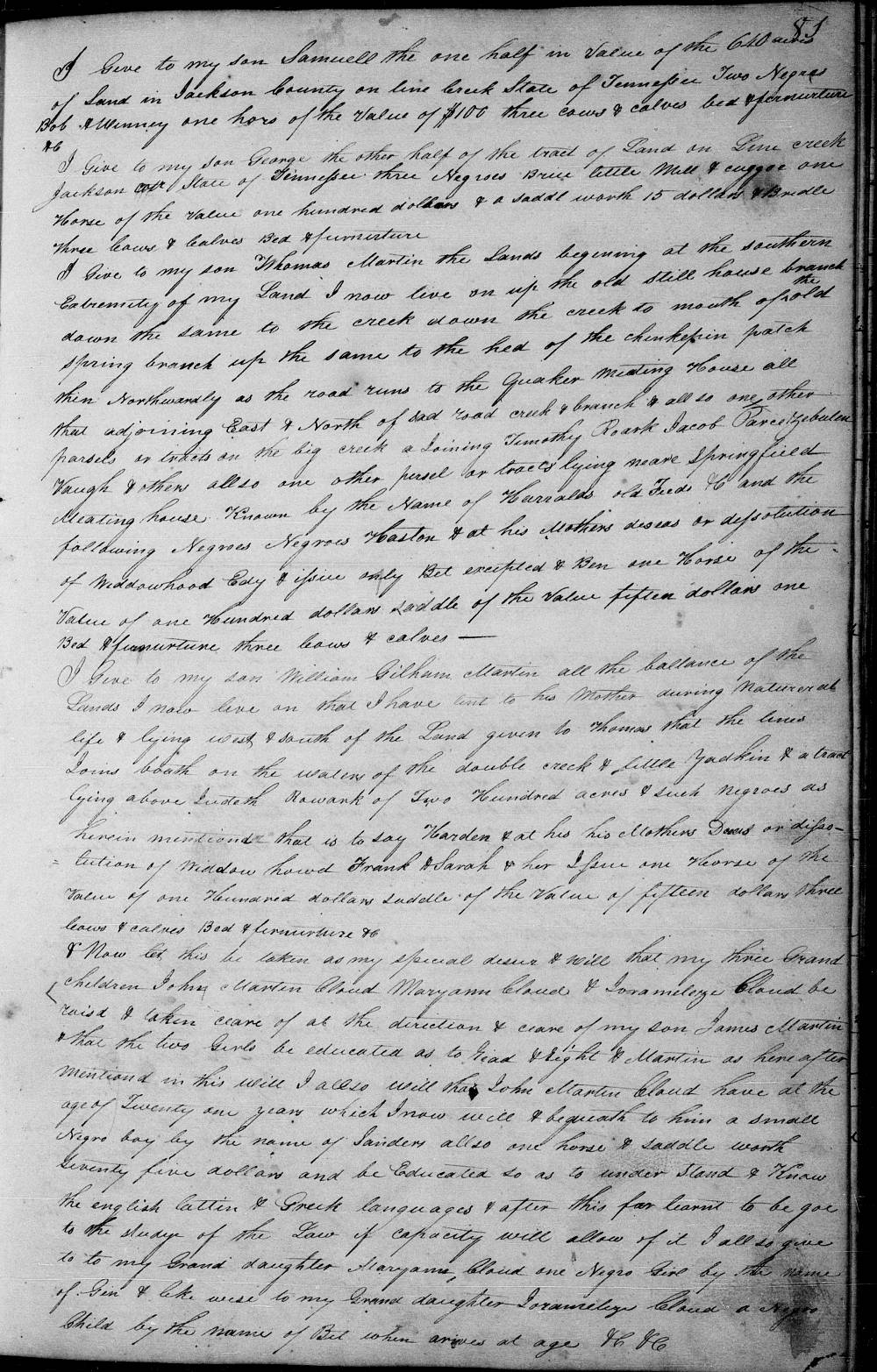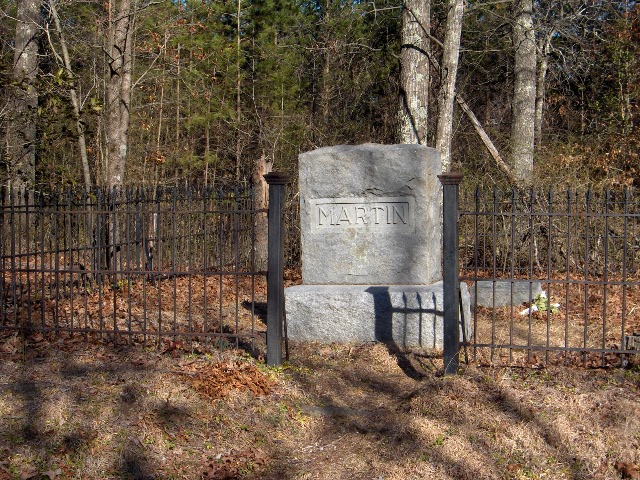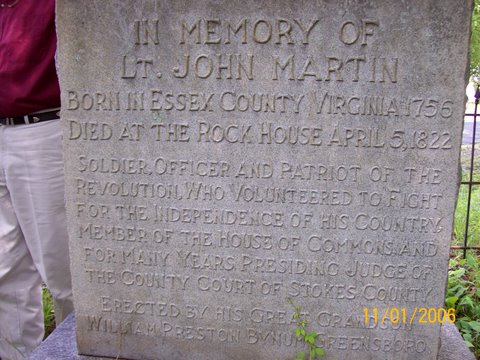 Inscription: The large monument reads: In Memory of Lt. John Martin
Born in Essex County, Virginia
Died at the Rock House April 5, 1822
Soldier, Officer and Patriot of the Revolution Who Volunteered to Fight For the Independence of His Country Member of the House of Commons and for many years Presiding Judge of County Court of Stokes County. Erected by His Great Grandson William Preston Bynum Greensboro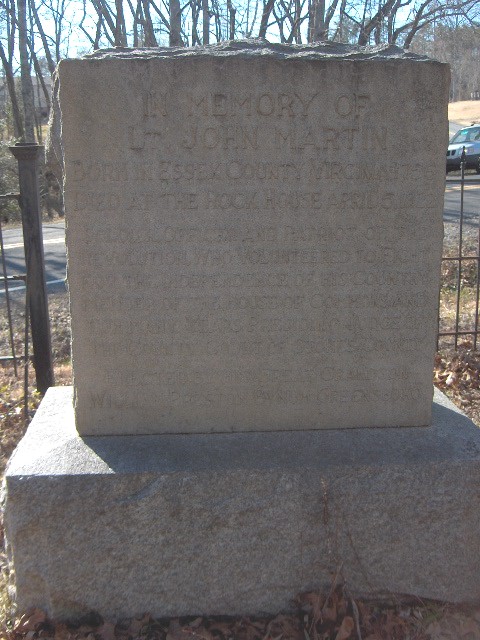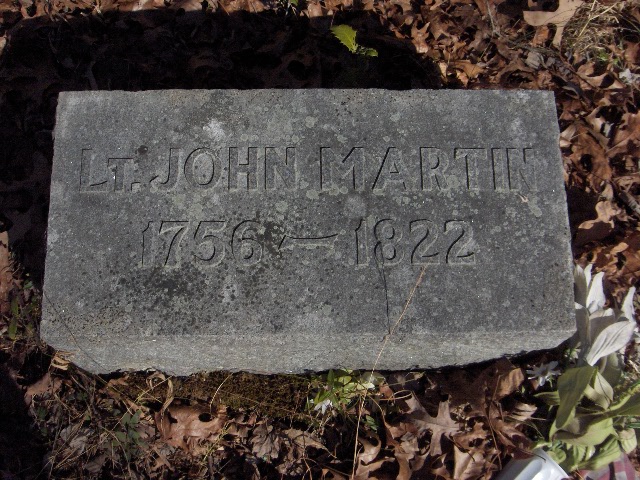 Small grave marker reads: Lt. John Martin 1756 - 1822
Note: His middle initial may be a "C." but it is not used in any Stokes County, North Carolina records that are available.
Ralph D. Shipp cites the middle initial in his book, "The Shipp Family Genealogy" on page 15.

Nancy Ann Shipp Martin
Birth: 1763 Lunenburg County Virginia, USA
Death: Jan. 25, 1841 Stokes County North Carolina, USA
Nancy married John Martin in June 1784 in Surry County, N.C.
She got a pension in 1840, as the wife of John Martin, for his service during the Revolutionary War. ***
The annexed leaf cut out of the family Bible contains the names and ages of all of the children born of her body. Signed by mark.
Page of Family Bible attached to Nancy Martin declaration: (The Bible was printed by Alexander Weir, bookseller, 1781)
Nancy swore that this list was written by her husband John Martin and was cut out of the family Bible.
1. Mary coalmon Martin daughter of John & Nancey wife born April the 23 day at 12 Oclock & the year 1785.

2. Elizabeth Martin daughter of John & Nancey his wife was born February 5th day at 12 Oclock at night & year 1787
3. James Martin son of John & Nancey his wife was born March the 20th day at 2 Oclock in the morning 1789
4. Joseph Martin son of John & Nancey his wife was born February the 4th day a 5 Oclock in the morning & year ?
5. Ginney Martin daughter of John & Nancey his wife was born August the 10th day at 6 Oclock & in the year 1794 – Deceast June 26 day 1797
6. John Martin son of John & Nancey his wife was born May the 5th day & in the year 1797 – at 8 oclock in the afternoon
7. Samuell Martin son of John & nancey his wife was bornd 19 of Jany at ? Oclock in the afternoon & year 1800
8. George Martin son of John & Nancey his wife was bornd Oct. 30 1802 & at 11 Oclock at night
9. Thomas Martin son of John & Nancey his wife was bornd the 18th of January 1805 at 7 Oclock in afternoon
10. William Gilliam Martin son of John & Nancey his wife was bornd August 26 about 8 Oclock at Night 1809.
Col. John Martin died the 5 Apl. 1823. ***
Declaration of Nancy Martin – 24 Nov. 1840 - Stokes County, N.C. – Nancy, aged 77, was deposed at her residence 16 miles from the courthouse of Stokes County, she being very unable to travel to court from bodily infirmities.
Nancy is the widow of John Martin. Her husband often related to her the many services he performed as a militia soldier and officer.
He said he served the most part of the whole war. He was in several skirmishes or battles.
One was on the Chesnut Ridges in Surry County, another at a place called Colesons fields or mills on Rocky River, and one on the Allamance River,
and one towards Kings Mountain when he said he got wounded by the Tories. He was commanded by Maj. Winston of then Surry County, Col. Jo Williams,
Capt. James Cloud, Col. Cleveland, Col Shepperd, and Capt. Minor Smith, all of Surry County. John Martin served most of the time as a lieutenant.
Nancy married John Martin in June 1784 in Surry County, N.C. by Micajah Clarke, a magistrate of that county,
after having been first published by a minister, John W. Stephens (?) of the Baptist Church.
Her husband John Martin died on April 5, 1823. ***
Inscription: Nancy Shipp Sister of Capt. Thomas Shipp and Wife of Lt. John Martin 1763-1841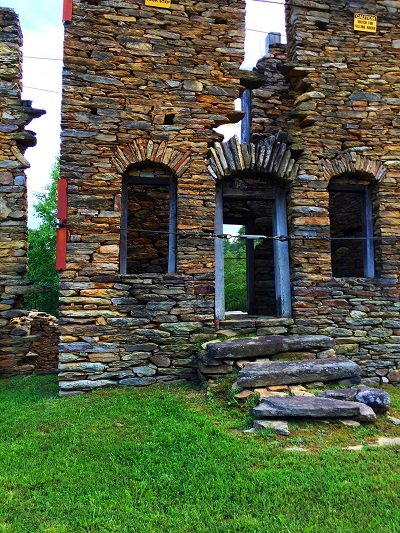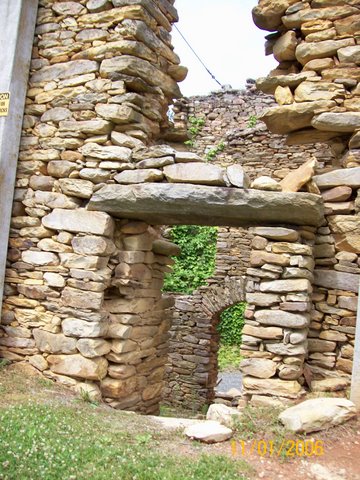 Elizabeth Martin Harris
Birth: Feb. 5, 1787 Stokes County North Carolina, USA
Death: 1860 Watkinsville Oconee County Georgia, USA
Elizabeth "Betsy" Martin's first husband was Jeremiah Cloud. They married in Stokes County, NC in 1810.
Jeremiah entered into the service for the War of 1812 as a Second Lieutenant, Infantry of the Fifth Regiment, North Carolina Militia.
He enlisted in November 1814 and died about the 1st of March of 1815 from measles.
He death occurred in or near Norfolk and his burial location is unknown.
They had three children: John Martin Cloud, Eliza Jerome Cloud and Mary Ann Cloud.
Elizabeth took for her second husband, John Harris, a physician.
They were married in April of 1817.
About September of 1821 John died from some undisclosed accident.
There were three children from this marriage: Ruth Harris, Burr Harris and John Harris. Elizabeth left her familial home in Stokes County, North Carolina after the death of her second husband and both of her parents.
She moved with most of her children to Watkinsville, Georgia where she appears for the last time in the 1860 census living with her son John.
It is assumed that she is buried 2 blocks from their home in the city cemetery, but there is no tombstone or early cemetery record of her burial.
Actual death date is unknown.